Yellow Fever Risk Areas
These are areas where the virus is present in monkeys and is a potential risk to humans as defined by the World Health Organization. Some of these countries demand a yellow fever certificate from travellers as a condition of entry to their country. Many of these, and other countries, will ask you for a certificate if you are entering from a country infected with yellow fever.  Your travel agent should inform you if you need a certificate when you are booking your holiday or flight. 
The fact that a country does not demand a yellow fever certificate to enter, does not always mean that there is no risk of yellow fever in the country.
Individual country pages will indicate if there is a risk of yellow fever in the country you plan to visit.
Areas with Risk of Yellow Fever Transmission
The following maps show the approximate areas which have a risk of yellow fever transmission. Below the maps is a list of these countries.
Africa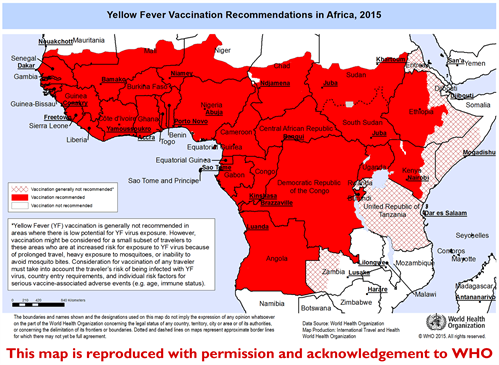 The Americas (*click here for a map of Brazil)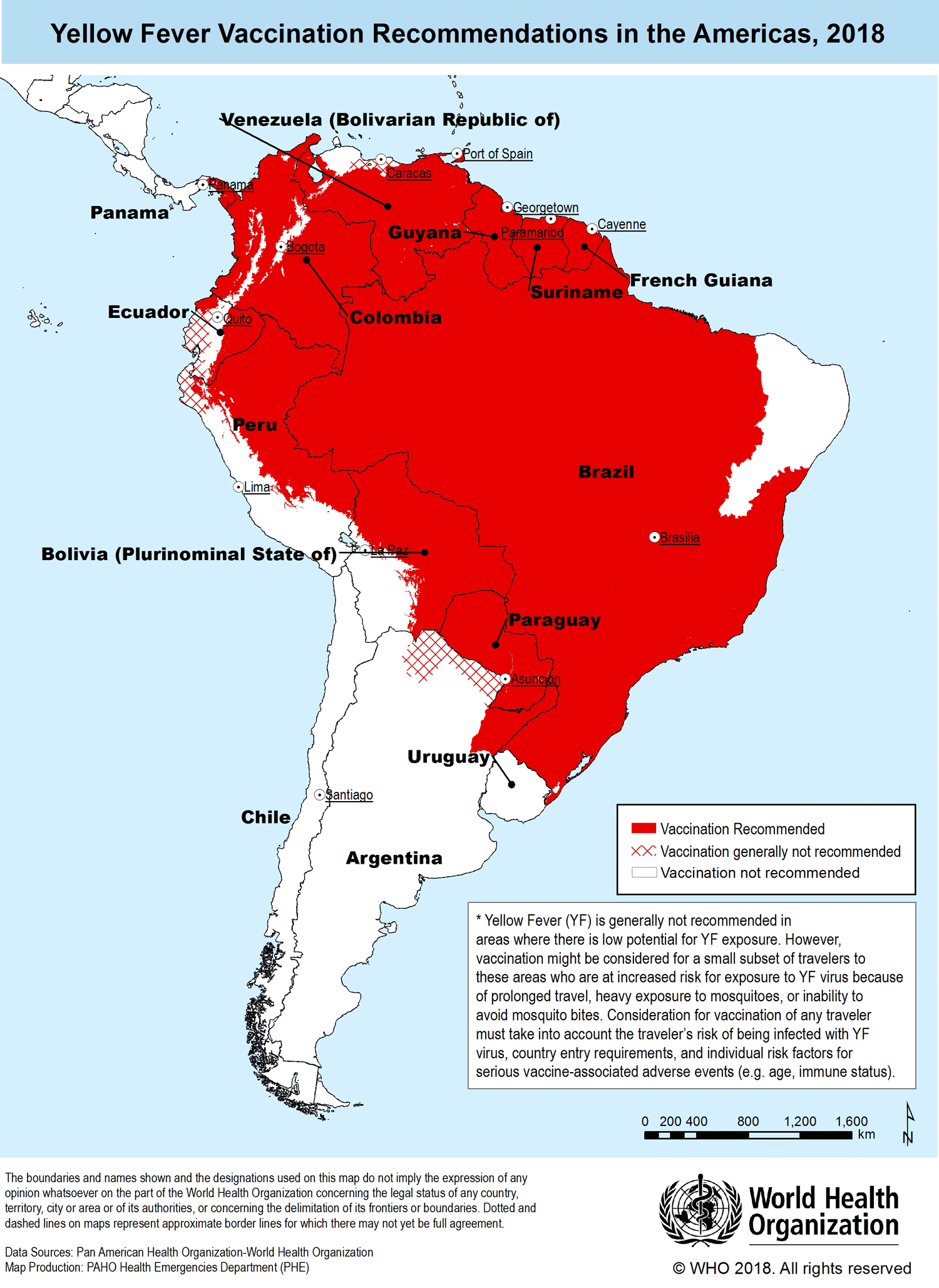 Countries in Africa with Risk of Yellow fever Transmission
Angola
Equatorial Guinea        
Mauritania
Benin
Ethiopia
Niger
Burkina Faso
Gabon
Nigeria
Burundi
Gambia, the
Senegal
Cameroon
Ghana
Sierra Leone
Central African Republic
Guinea
South Sudan
Chad
Guinea-Bissau
 Sudan
Congo, Republic of
Kenya
 Togo
Cote d'Ivoire
Liberia
 Uganda
Democratic Republic of Congo
Mali
 
Countries in Central and South America with Risk of Yellow Fever Transmission
Argentina
French Guiana
Suriname
Bolivia
Guyana
Trinidad and Tobago (Trinidad only)
Brazil
Panama
Venezuela
Colombia
Paraguay
 
Ecuador
Peru
 
Exceptions
Some countries may not exactly adhere to this list, and will include (or exclude) as infected, certain other countries in their official requirements for entry. Please refer to the latest World Health Organization information on yellow fever individual country requirements here.